May 3rd, 2004
The Wedding
We awoke early Saturday morning to get ready to be wed. Surprise! We'd thought about a Vegas wedding for a while and it seemed particularly fitting to get hitched on a road trip (you know, since we met on the road).
First things first, we went to the mall to find a wedding gown. We spent a couple hours looking but Maya didn't really find anything she liked, so she figured she'd just wear a cute skirt and a little top. Of course, we had to find a veil, so we headed over to a bridal shop across town. When Maya and Sara went in to the back to find said veil, they told the bridal-shop-ladies what she was planning to wear and they weren't having it. They convinced her to go all out and get the gown you see to the right.
We had a fun day planning our wedding in what most people take a year to do! Rings and everything! After picking up the remainder of our wedding party from the airport (thanks Henry and Niki!), we went back to Sara's to start primping for the wedding.
And then off to the Graceland Chapel. We got married on Elvis' wedding anniversary. How very fitting! It couldn't have been a more perfect day. We are so happy and very excited to get back on the road tomorrow to start our official honeymoon.
We both want to thank all of our family and friends for your love and support over the years. We will continue to keep you updated so make sure to check our log often. We love you all very much. We are married, can you believe it?!!!!
Gabriel & Maya Trout

The happy bride & groom

Maya gets ready in the 'mirror'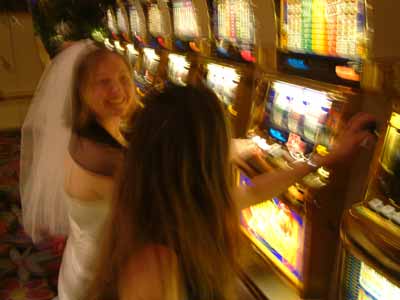 The blushing bride plays quarter slots

Our Wedding Party!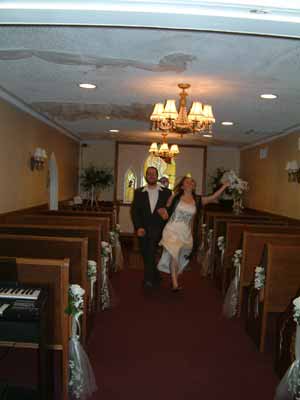 Skipping down the aisle.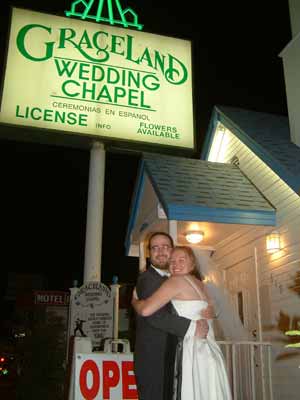 The Graceland.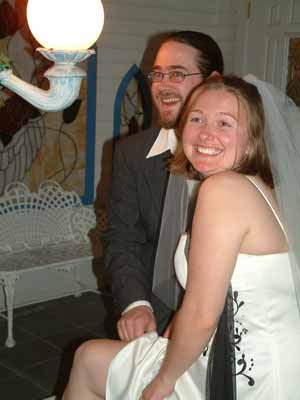 The garter removal